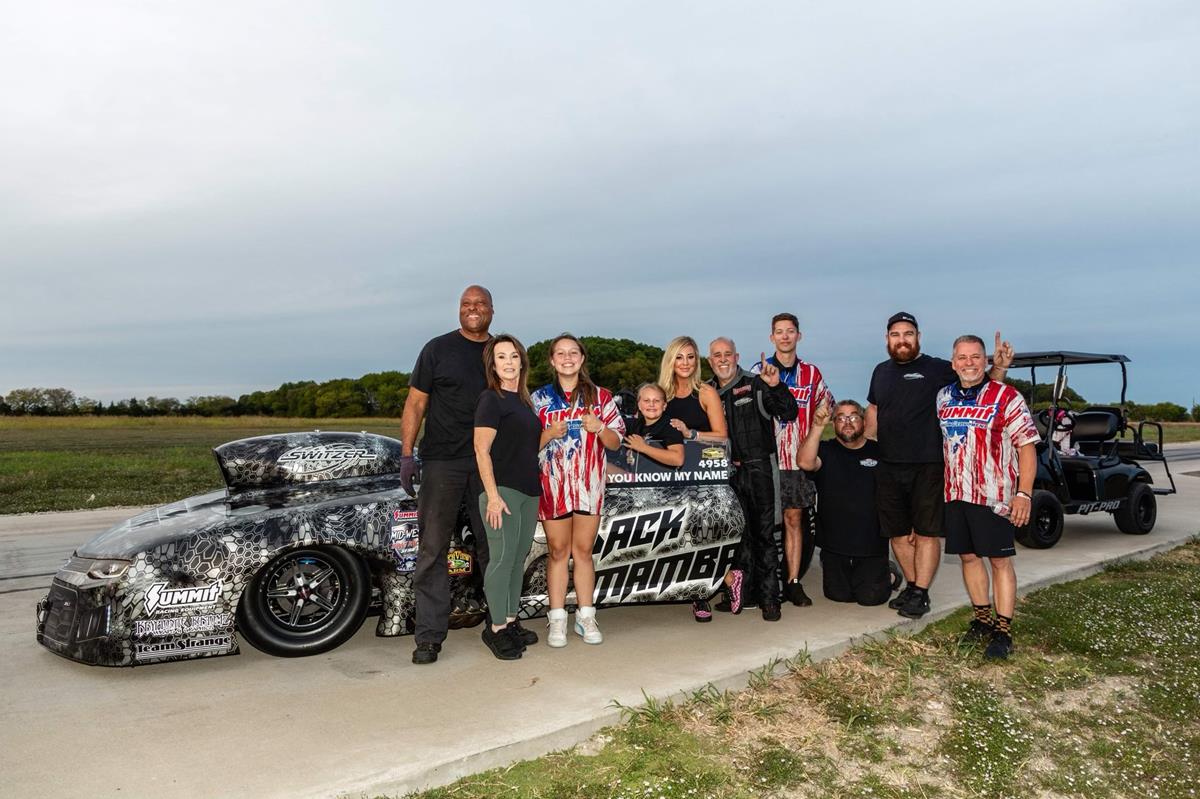 ---
Haney Wins 2023 MWDRS Pro Mod Title
TULSA, OK (Oct. 25, 2023) -- It came down to the last of eight events in
the 2023 Summit Racing Equipment Mid-West Drag Racing Series presented
by J&A Service, when veteran driver Keith Haney sealed the deal Oct. 21 at
Xtreme Raceway Park on his second MWDRS Pro Mod championship.
Haney, who is also the founder and owner of the MWDRS, went into the
event holding a slim five-point advantage over second-place Steven
Whiteley.
After qualifying third, Haney did his job Saturday afternoon, driving his
nitrous-boosted "Black Mamba" 2019 Camaro to a 3.65-seconds win at
205.48 mph over Tony Strachan in the opening round of racing. Meanwhile,
second-place starter Whiteley left 13-thousandths of a second too soon,
negating a 3.66 pass that would have advanced him past Aaron Wells, who
was forced to shut down early.
"It is very surreal, I guess you could call it, but it was a hard-fought battle
all the way to the finish," Haney said after clinching his second Pro Mod
championship and third MWDRS season title after doubling up in 2018 as the
Drag Radial and Pro Mod champions.
"Steven Whiteley has become a good friend of mine and he's a fierce
competitor. Great on the light, fast, wonderful family and team. I'm more
nervous racing him than I am anybody in the series," Haney said of his
season-long rival. "But I'm glad it's over and we won."
Haney and his Tulsa-based team, led by nitrous tuning wizard and crew chief
Brandon Switzer, combined for three wins in six final-round appearances
over eight events in the 2023 MWDRS season.
"When it comes to that car, I owe everything to Brandon Switzer. He's a
literal genius with it," Haney declared. "He also taught me how to drive
better."
"In the middle of last year, he sat me down, showed me my mistakes as a
driver. So he taught me how to drive better, which made a big difference. I
finished the last three years in third place and this year in first place. And I
owe that to Brandon, his continuous effort to work on the program and run
the ETs."
Haney said his team, including 11-year crewman Dale Hancock, engine
expert Shane Goodnight, plus Steve "Token" Cooks and new-hire Bobby
Savedra, all came together in a way he's never experienced before.
"It's all about our preparation, I told my team this and they grasped that
championships are not won at the racetracks. They're mostly won in the
shop with the preparation, the attention to detail, with everything that
matters the most," he said.
"So I owe it all to my team, but to my wife Misty and the kids, too. The thing
that changed mainly this year, the middle of last year really, is that we built
the race shop, everything's at the house now. It's a lot better."
At this year's Xtreme finale, Wells recovered to beat Keith Goolsby in the
semis while Haney made a solo pass to reach the final round.
Unfortunately, Haney seemed to forget some of Switzer's lessons once he
got there last weekend as he was way late on the tree, negating a quicker 3.65 at 205.10 while Wells posted 3.72 at 206.42 to win the final MWDRS
event of the year.
"I let my team down in the race, meaning after the championship was won,"
the new champ freely admitted. "A lot of people don't realize the level of
stress and the energy that it takes away from you by always being on edge."
"When I went up there, I was so relaxed and I made the comment to myself
that we don't have any pressure. Well, I ended up cutting the worst light
that I've cut in probably two, three years. I was just too relaxed. I forgot to
finish the job and I apologized to my guys for that."
Haney said he was racing this year in memory of chassis builder Jerry Bickel,
who built the fan-favorite "Black Mamba" but passed away in April this year and my great friend Ronnie Hobbs. He also credited Switzer Dynamics, Pat
Musi Race Engines, Icon Forged Pistons, Stroud Safety, Race Star Wheels,
Total Seal, Strange Engineering and Kryptonite Kuztoms among his longest-standing supporters, as well as singled out primary sponsor Summit Racing
Equipment for its long-standing support.
"I know Summit's got plenty of championships, but I don't know how many
Pro Mod championships they got -- but they've got one now," Haney happily declared.
Still, despite earning the right to carry the No. 1 on his car again next
season, Haney stressed he's far from resting on his laurels. In fact, he
promises to have something coming soon to shake the sport of drag racing
to its core.
"And it'll be before PRI (Dec. 7-9) so people can plan what they're going to
do in 2024," he continued. "It is for Pro Mods in particular, but it's for other
classes, too. And when I say the biggest announcement, the biggest announcement of any promoter, any series, anything, it is the biggest.
What's coming will shock everybody."
Photo: Randy Curtis
Keith Haney Racing thanks Summit Racing Equipment, Strange Engineering, Pat Musi Racing Engines, Switzer Dynamics, Jerry Bickel Race Cars, Stroud Safety, Race Star Wheels, Icon Forged Pistons, Kryptonite Kustomz, Precision Racing Suspensions, Callies Performance Products, Atomizer Fuel Systems, Total Seal Piston Rings, OK Auto Direct, Motec Systems USA, RacingJunk.com Classifieds, Tulsa Raceway Park, Pit-Pro Custom Carts and Scag Power Equipment.
Back to News