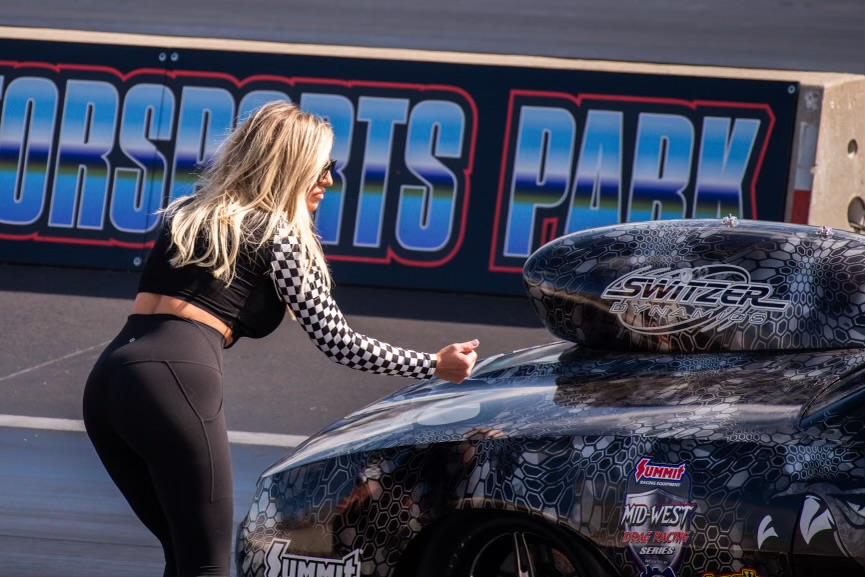 ---
Keith Haney Takes Mid-West Drag Racing Series Pro Mod In Michigan
In a stunning display of skill and determination, Keith Haney emerged triumphant in the Stroud Safety Pro Mod category during the Mid-West Drag Racing Series US 131 Nationals held at US 131 Motorsports Park in Martin, Michigan.
Haney entered the weekend with a broken drive shaft and transmission after competing at the Yellow bullet Nationals at Cecil County Dragway in Rising Sun, Maryland.
However, Haney and his team worked tirelessly to rectify the mechanical issues.
"We had our fair share of challenges," said Haney, Mid-West Drag Racing Serie
Founder and also the driver behind the wheel of the nitrous oxide-injected Pro
Mod Camaro, "Black Mamba."
"We go up for Q1, and we go 3.66, which puts us as the number two qualifier. I should have lifted, but I didn't," Haney admitted. "I stayed in it, went .66, and got pretty close to the wall."
Despite setbacks in Q2 due to faulty spark plugs, the "Black Mamba" roared back in Q3 with a spectacular 3.64. Saturday's performance showcased Haney's driving acumen, as he recorded 3.65 in both rounds one and two.
Anticipating the wear and tear on the engine, the team played it strategically during round three once they found out they had a bye due to the on-track crash between Steven Whitley and Ron Muenks. Haney simply took the tree and then backed up, preserving the motor for the final round.
The finals against Ed Thornton were a testament to Haney's skill and the team's meticulous tuning. "Having Ed Thornton in the final round with a turbo car that goes 229 MPH – it feels like it's taking the paint off the side of your car when it goes by."
Even after being compelled to lift off due to the car pushing towards the wall, Haney clocked an impressive 3.69-second pass at 190 MPH.
"Truthfully, the team did an amazing job. The racetrack, absolutely hands down, Jimmy Bradshaw, Samuel Peterson, and Jason Peterson, are just hands down, a great facility and, a wonderful event," said Haney. "Also, thank you to my wife [Misty], who always takes care of me. I couldn't do it without her."
With this victory, Haney has reclaimed the points lead in the Stroud Safety Pro Mod class. Now, he has his sights set on the upcoming double-event in Tulsa, Oklahoma, from October 6-7 at Osage Tulsa Raceway Park.
Article Media
Back to News